Announcements
---
printable versions: pdf,
ps
Summary of announcements
---
Third Announcement
This is the third, and final, announcement for IAU C196 to be held in Preston, UK, 6-11 June 2004.
It contains the new conference programme, speakers' instructions and instructions for publication of proceedings papers.
Speakers' instructions
We will have a data projector and an overhead projector available. There will be a speaker preparation room where those with PPT presentations may load them onto a computer identical to the one in the conference hall to test them. It is strongly recommended that you do this, then copy your presentation onto the main computer (running XP and PPT) in the conference hall prior to the start of your session.
For those of you who must use your own laptop computers, please test them thoroughly before your session with our projector in the conference hall.
NB: All setup time comes out of the time for YOUR talk. There is no slack in the schedule. If you have computer problems and it takes you 10 minutes to fix them, then you must shorten your talk by 10 minutes. Please make sure this does not happen to you, either by using our computer, or by thoroughly testing yours with our projector prior to the start of your session. The conference hall will be open and technical support will be available from 08:00 each morning.
Information on the proceedings for C196.
The new Publisher for IAU publications as of 2004 is Cambridge University Press (CUP). All publications (Proceedings of IAU Symposia, Colloquia, Highlights and Transactions) will become available both in print and on-line. The IAU contract with CUP stipulates that Proceedings of IAU Symposia and Colloquia should appear within six months after the conference. Since the publisher needs three months to make the final product, the three months right after the conference are the period in which the editors have to do their job. This requires that speakers bring their manuscripts to the conference and submit them on CD or diskette, or by email before the conference. Authors are allowed an additional four weeks after the conference to re-submit any revised manuscripts, if desired. The intention for this is only to include changes that result from interactions at the conference itself.
You can download the files needed to put your papers into the correct latex format from the abstract and proceedings page.
Please use the sample.tex file. You may use other graphics packages, if you wish, but you will make the editors' job much easier if you will stick to the two in the sample.tex file - namely, epsf and graphics.
Please NB:
Do not change font sizes.
Proofread your paper before submitting it.
Check your references.
Check that you do not have any figures or tables that are over the boundary.
Make sure that your figure labels are readable after reduction. Check the ps file for this after running latex. Many figures have to be redrawn because of this problem with delays for both author and editor.
Do not be too clever with your latex. Remember that tables and figures may have to be shifted to other positions in the editing process. Keep your latex relatively simple and flexible. For example, avoid use of minipage or extensive use of mbox. Do not use plotfiddle unless absolutely necessary. It is better to redraw the figure than to patch problems with plotfiddle (which can result in boundary violations).
The above are common problems for conference proceedings papers.

Page limits:
Keynote talks and conference review: 20 pages (Myles Standish, Allan Chapman and Richard Strom)
Invited talks: 16 pages (30-minute talks)
Contributed talks: 12 pages (20-minute talks)
Posters and poster/talks: 8 pages (posters and 15-minute talks)
The times include setup time (for PPT, for example) and question time.
The page limits are generous for conference proceedings. This is because CUP, the new IAU publishers allows 600 pages for a volume. Nevertheless, the editors are depending on some authors not to use the full allotment to leave room for extensive discussion, which will be recorded and transcribed. Please do not exceed your page limit, use all of it if you wish, but feel free to submit a shorter paper, if that is appropriate for you.
---
Second Announcement
Dear Colleague,
We are very pleased to send you this Second Announcement for IAU Colloquium 196, "Transits of Venus: New Views of the Solar System and Galaxy", to be held in Preston, Lancashire, UK, 7-11 June, 2004.
We extend a warm invitation to you to come to Preston for this meeting in the week of the 2004 Transit of Venus. The meeting provides an opportunity to observe this rare astronomical phenomenon in its prime historical venue, while having discussion of its historical and current context and relation to modern astrophysics. The scientific and social programme is detailed in this announcement, which also includes information about registration, accommodation, contributed papers, and IAU Grants.
For those who have not seen our First Announcement, please find this and further information on our conference website:
https://transit-of-venus.org.uk/conference
In this second announcement, we give detailed information under the following section headings, with three pro-formas appended:
We hope that the information in this announcement will enable you fully to plan your participation in this IAU Colloquium. However, if you have any queries, please do not hesitate to contact the Local Organising Committee (LOC) using the following addresses:
Telephone or fax:
Local Organising Committee,
Transit of Venus,
Conference and Events Management,
University of Central Lancashire,
Preston PR1 2HE, UK
tel:
fax:

OR to the LOC chair:
Prof. Gordon Bromage
Centre for Astrophysics
University of Central Lancashire
Preston PR1 2HE, UK
tel:
fax:

This announcement and other information is available on our conference website:
https://transit-of-venus.org.uk/conference
We look forward to meeting you in Preston in June.
With kind regards,
Don Kurtz and Gordon Bromage
Co-chairs of the SOC
On behalf of the Scientific Organising Committee:
Gordon Bromage (UK),
Nicole Capitaine (France),
Dale Cruikshank (USA),
Suzanne Debarbat (France),
Steven Dick (USA),
Mike Feast (South Africa),
Julieta Fierro (Mexico),
Naoteru Gouda (Japan),
Don Kurtz (UK),
Anne Lemaitre (Belgium),
Mikhail Marov (Russia),
Wayne Orchiston (Australia),
Jay Pasachoff (USA),
Luisa Pigatto (Italy).
A copy of the full second announcement can be found here in txt, pdf and in ps formats.

---
First Announcement
Transits of Venus: New Views of the Solar System and Galaxy
We are very pleased to announce IAU Colloquium 196, "Transits of Venus: New Views of the Solar System and Galaxy", to be held in Preston, Lancashire, UK, 7-11 June 2004.
On 24 November 1639 (Julian Calendar) in the tiny Lancashire village of Much Hoole, Jeremiah Horrocks made the first observations of a Transit of Venus. He was one of the first Englishmen to appreciate the astronomical revolution going on in Europe following the works of Tycho, Galileo and Kepler. It was Horrocks who first proved that the orbit of the moon is an ellipse, and Newton made good use of Horrocks' discovery. Horrocks, who died at age 22, can be considered to be the father of British astrophysics for the remarkable depth of his accomplishments. His legacy reverberates today.
This meeting will have history running through it, linking modern research topics on: high precision determination of the solar parallax; distances in the Solar System and in the Galaxy; precise determination of the motions of planets, realisation of a dynamical time scale and fluctuations in Earth's rotation. It will examine critically the remaining uncertainties in currently available parallaxes, how they can be further reduced, and the implications for stellar physics and Galactic structure studies. This will include the galactic distance scale, and will look at the future of astrometry from the ground and especially from space, including Gaia and Jasmine.
This meeting provides an opportunity to observe an extremely rare astronomical event in its prime historical venue while having discussion of its current context and relation to modern science. This will allow experts to present the most recent and future developments in the scientific topics linked to this astronomical phenomenon and exchange ideas on the most important issues for the future.
The morning of Tuesday, 8 June (the 2nd day of the meeting) will be devoted to observing the Transit of Venus beginning just after 05:19 UT (06:19 BST) and lasting for nearly 6 hours. Live observations will be conducted through the telescopes of the University of Central Lancashire's Alston Observatory near Preston, and live video links to other observing sites will be displayed. There will also be visits in small groups throughout the transit to Carr House (built 1613) in Much Hoole where Horrocks made his seminal 1639 observations. After an afternoon's rest, the day will finish with a conference banquet at the beautiful Hoghton Tower, a 16th-century manor house overlooking the rolling green hills of Lancashire where it is claimed Shakespeare worked for 3 years and where in 1622 James I was served a loin of beef that he so liked, he knighted it on the spot, Sir Loin. Our top table for the banquet will be the very table where the deed was done!
The meeting will have multi-disciplinary threads of science and history running throughout the sessions. An ancillary historical meeting for students will be held with some participation by this colloquium's invited speakers.
Following the first relatively precise determination of the a.u. from the opposition of Mars in 1672 by Richer and Cassini, the great scientifically competitive expeditions to observe the Transits of Venus in 1761 and 1769 were the first examples of modern "big science"; those expeditions have given us some of the most colourful stories in all astronomy. With the length of the astronomical unit known, and with the discovery of stellar parallax in the 1830s, our view of the universe was fundamentally changed. It is fair to say that modern astrophysics blossomed from these determinations.
Transits of Venus were observed again in 1874 and 1882 for refinement of the value of the a.u.
No living person has ever seen this rare event. Many astronomers from around the globe will want to experience seeing this historic event, and Carr House in Much Hoole, Lancashire, is the prime historic site. We are sure they will appreciate the historical connections planned in the sessions and during the transit itself.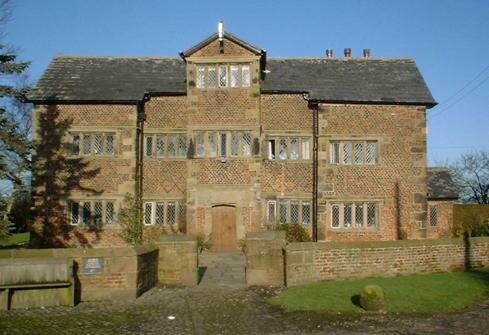 Carr House, Much Hoole, Preston, Lancashire
Scientific topics are:
Transits of Venus: their history and science
Transits of Mercury
Observations of transits of extra-solar planets
Modern and historical determinations of the a.u.
Precision measurement of time and rotation of the Earth
New discoveries in the solar system
Astrophysics from high precision parallaxes from space and from the ground
Hipparcos parallaxes and the Galactic distance scale
The scientific promise of future astrometric space missions: Gaia and Jasmine
The meeting has wide IAU support from Divisions I (fundamental astronomy), Division III (solar system) and Commission 41 (History) and is supported by the Royal Astronomical Society.
Presentations will include invited reviews, contributed talks and poster papers. The second announcement and the call for scientific papers will be sent out in November 2003.
The conference will be hosted by the Centre for Astrophysics and be held on the campus of the University of Central Lancashire in Preston, Lancashire, UK. The University of Central Lancashire,  in its various forms as a teaching and research institution, is 175 years old in this year. It currently has 35,000 students and has strong astronomy research in its Centre for Astrophysics. Preston is a small city (awarded city status by the Queen in 2002) of 135,000 with large green spaces within the city. The university in integrated with the city and is within easy walking distance of central Preston. It  is easily reached by direct train from Manchester airport, the UK's third largest airport serving many international airlines, and by direct train service from London.
Preston is ideally situated for day trips to the English Lake District, the Yorkshire Dales, the Peak District, North Wales and the Forest of Bowland with the most beautiful scenery in England: National Parks, 900-year-old Cistercian monasteries, stone circles >3500 yr in age, lakes, rivers, mountains, forests (including the one where Tolkien walked as he imagined the Lord of the Rings), stately homes, lovely old stone villages, canals and canal-boats, traditional English Pubs, puffins, and unlimited  historical sites.
The weather in Preston in early June is temperate. Daytime temperatures are likely to be in the range 15-25 C with overnight minima of 5-15 C. The total rainfall is about 1 m per year spread throughout the year with an average of 75 mm in June, so light rain is always possible. There will be a live video link at the Alston observatory to other observing sites, in case of cloud on the day of the transit. Of course, in 1639 Horrocks had to contend with this, too, and he successfully observed the transit. Let history be your guide!
For more information on the University of Central Lancashire see: www.uclan.ac.uk
and for Preston City see: About Preston
At this time you are invited to send expressions of interest by using the form provided here.
We also ask you to pass on this message to any of your colleagues who may be interested in attending the meeting.
We look forward to seeing you in Preston next year!
Don Kurtz and Gordon Bromage (Co-chairs, SOC)
...on behalf of the Scientific Organizing Committee:
co-chair: Don Kurtz - UK
co-chair: Gordon Bromage - UK
Nicole Capitaine, France
Mikhail Marov, Russia
Steven Dick, US
Mike Feast, South Africa
Wayne Orchiston, Australia
Jay Pasachoff, US
Dale Cruikshank, US
Naoteru Gouda, Japan
...and the Local Organising Committee:
Gordon Bromage, chair
Barbara Hassall
Peter Hingley, RAS librarian
Don Kurtz
Paul Marston
Gillian Saunders
Robert Walsh
For more information about the conference, please email here: . If you wish to express interest in attending the conference please fill out the form provided here.
---
printable versions: pdf,
ps